Main Line School Districts: Low Housing Inventory 2021
Posted by Alvin Belden on Tuesday, February 23, 2021 at 12:12 PM
By Alvin Belden / February 23, 2021
Comment
Housing Inventory in Main Line School Districts
It's no secret that the supply of houses for sale on the Main Line in the winter of 2021 is low. It's become common to have multiple offers on properties for sale and for buyers to limit or entirely forego mortgage and inspection contingencies. This article will look at the Main Line real estate market through the lens of Main Line school districts. Does the market vary by school district? If so, how significant is the variation? Let's jump into the subject and see what we find.
I'm considering the school districts below in this article. Click the links to see homes available in the specific school districts as well as detailed statistics.
Below are median home price and months of supply stats for each of the school districts above. A month's supply of homes is 1/12 of the number of homes sold in the previous 12 months. Below 4 months' supply is considered a seller's market and above 6 a buyer's market. 4 - 6 months is considered in balance.
The average months of inventory across these 5 school district is about 1.1, a rampant seller's market, and there's a clear trend to lower inventories over the last 2 years. Inventory for each of these districts is quite low. Radnor and Lower Merion have a bit more inventory than the others but not by much.
The trend in median sold price is less clear cut. Prices are clearly increasing in Marple-Newtown and Tredyffrin-Easttown School Districts but not so much in Haverford, Lower Merion and Radnor. One would expect prices to lag a change in supply and there are other factors that affect prices such as the attractiveness of the locale and amenities, growth in local job opportunities, etc.
Many are hopeful that inventory will increase with the arrival of spring. Historically, there is more inventory in the nicer weather. Still, I would say buyers need to expect that multiple offers and higher prices will continue for the foreseeable future. Sellers can expect strong competition for their properties and should be able to negotiate favorable terms for their homes.
Lower Merion
Haverford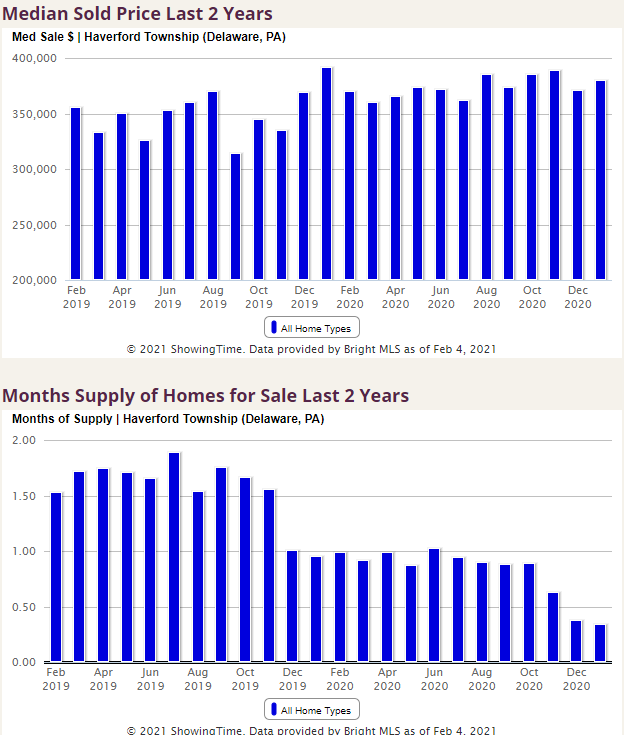 Radnor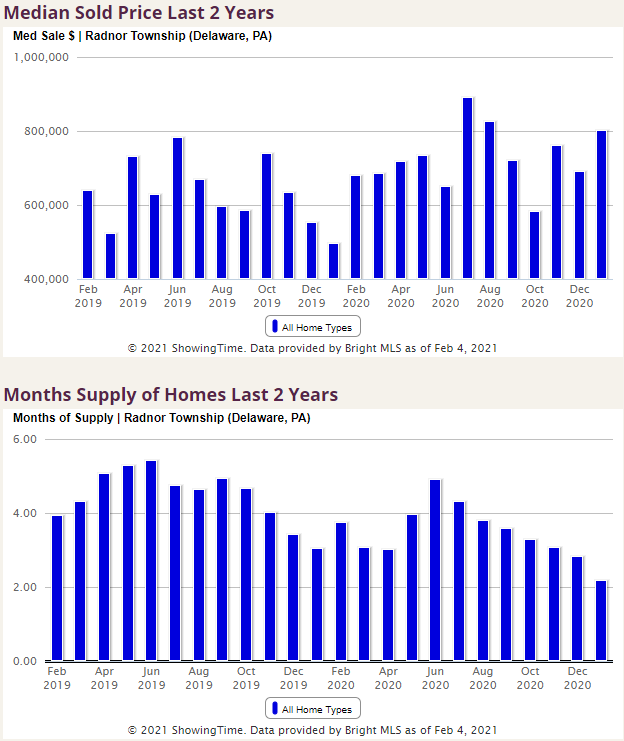 Tredyffrin-Newtown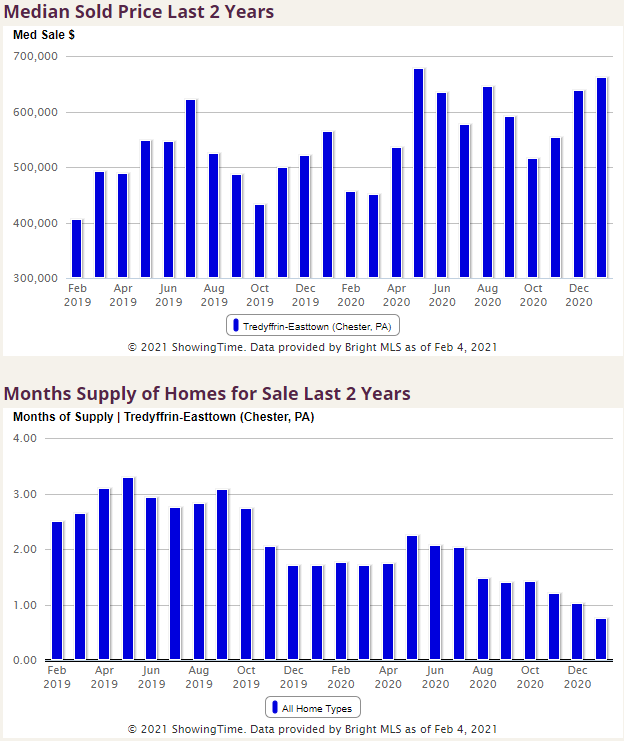 Marple-Newtown