Favorite Main Line Restaurants (BYO)
Posted by Alvin Belden on Thursday, August 22, 2013 at 9:00 PM
By Alvin Belden / August 22, 2013
Comment
We love our BYOs (Bring Your Own wine, beer, etc.)! No exorbitant liquor bills and you can always bring your favorite liquid refreshment. Tina's (my wife) favorite wine is Pinot Grigio and mine is Sauvignon Blanc, though I also love dry Rieslings and Chardonnay and have been known to finish the night with a shot of 10 year old scotch (Can you say 'Laphroaig?')
Below is my current list of faves in order of preference. Truthfully, they're all excellent. Otherwise, they wouldn't be on the list. I've stretched the boundaries of the Mainline to include Media and Havertown.
Nais Cuisine
113 - 117 W. Benedict Ave., Havertown. 610-789-5983.
This is really a fine dining restaurant without the high prices. It could be a special occasion place but is cheap enough that it doesn't have to be. The cuisine is french asian. Sauces are outstanding. I've had dishes here that I've never had anywhere else. Tina particularly likes the LobsterRavioli and always orders it. Try the Angel Hair Pasta appetizer, the Oriental Noodle Salad or the Rack of Lamb. You won't be sorry. Service is very good and the decor, though not the Four Seasons, is pleasant. It's a quiet unassuming place on a side street in Havertown. It's not a large restaurant but is big enough to seat larger parties (10 - 15) if needed. Parking is adequate and you can usually get seated without delay.


Fresco
228 S. Newtown Street Rd., Newtown Square, PA 610-356-4171
This place is absolutely first rate: Delicious and distinctive food, reasonable prices, friendly and professional staff and it's a BYO to boot. There is no better value out there. They do serve excellent pizza but they have an eclectic menu that varies from week to week so that you don't get bored. Try the blackened Salmon or Chicken Parm sandwiches or the Chicken Kabobs with onions and peppers. It's not the biggest place but they can seat parties of 10 and up if needed. They have outdoor seating in the Summer. It's in a strip mall so parking is convenient.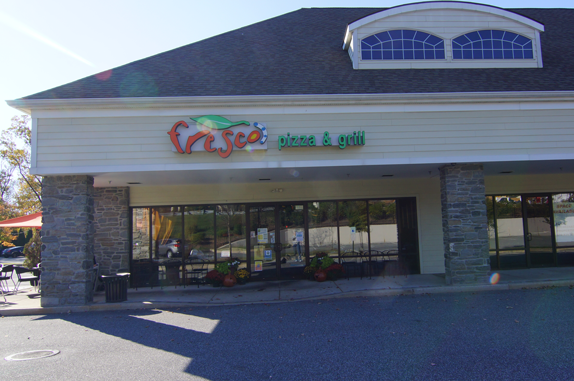 Silk Cuisine
Excellent food, a distinctive menu and very reasonable prices. One of the great things about this place is the roominess. You never feel crowded or pinched. The restaurant is seldom crowded which you might take as a sign that the food is not that good but it just ain't so. Try the Chicken Satay with Peanut Sauce or the Spring Rolls for starters and the Fried Whole Fish for an entree. Best bet for parking is half a block away at the bank lot.




Fellini Cafe
3541 W Chester Pike,  Newtown Square 610-353-6131
There's another Fellini's in Media that I think is under the same ownership but is not as good. Italian cuisine is the order of the day here and it is excellently prepared. Tina and I usually split the Caesar salad which is delicious. One of the waiters knows the menu by heart. All you have to do is tell him the number of the entree and he'll tell you what the dish is. Try the Capellini Rustico, a wonderful meal and enough to take home for lunch the next day. The Flute Limoncello is one of the best desserts I've ever had.




Pescatore
134 Bala Ave  Bala Cynwyd, PA (610) 660-9400
This is a special occasion, white linen sort of place, right across from the Bala movie theater. You pay a little more here but you get a lovely setting and outstanding food. It's time to indulge in those special bottles you've been daring yourself to buy.